3D printing of children's spines models helps doctors treat scoliosis
Spatial analysis of force load of a deformed spine using modelling of corrective forces is the focus of an interdisciplinary project of BUT and University Hospital Brno in Bohunice. It leads to the minimisation of scoliosis in pre-school children and also significantly reduces the number of surgical interventions performed. It involves two institutes of the Faculty of Electrical Engineering and Communication together with the Faculty of Civil Engineering.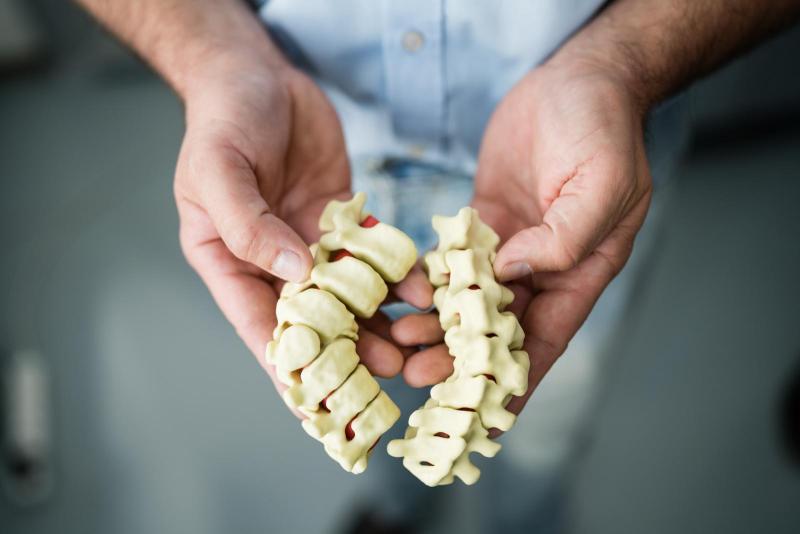 "Scoliosis is the most common spinal deformity in childhood. Only its early treatment can fundamentally lessen the difficulties in adulthood. Unfortunately, the results of conservative therapy are not always enough, so it is necessary to proceed to surgery at a certain degree of curvature," explains Milan Filipovič from the orthopaedic clinic of the University Hospital in Bohunice.
Therefore, in the case of a progressive deformity,
it is essential to intervene as soon as possible
, while the affected area is as small as possible. This increases the likelihood that the spine will continue to develop under normal conditions. It was Dr Filipovič who came up with the idea of approaching colleagues from BUT with the requirement to create a three-dimensional model of a child's spine, which would give the surgeon an exact idea as to how the surgery should look like,
so that the procedure would affect the smallest possible section of the spine and thus not affect its further growth
.
"We have been cooperating with the Brno University Hospital for a long time and our co-operation resulted in a number of interesting projects. In this case, we were successful in our application to the Czech Health Research Council four years ago. Our task was to process the acquired CT and MRI data using artificial intelligence. Researchers from the Institute of Theoretical and Experimental Electrical Engineering and the Institute of Telecommunications first optimised image segmentation methods to create a 3D model of the spine. Colleagues from the Faculty of Civil Engineering then helped them with modelling the distribution of mechanical forces," said Jan Mikulka, the project leader, summarising the involvement of BUT in the project.
The finished spine model with a high quality surface and precise spatial resolution is then printed at the Faculty of Electrical Engineering and Communication on a special full-colour 3D powder printer.
A surgeon always has two models of the spine at his disposal
. One of them is used for planning and physically performing the whole procedure in advance as a test; the other helps the surgeon with orientation directly in the operating theatre.
So far, twelve operations have been performed
, with more to follow after a short break.
"But first we want to close the current group of patients so that we can compare the results after a certain period. In the future, we would also like to replace CT scans with MRIs to avoid X-rays altogether," Filipovič added. Not only he, but also experts from the BUT believe that the project results have significant potential and meet
all the requirements for commercial use
. In the future, he would not be opposed to negotiations with health insurance companies in this respect.


Source:

vut.cz/en
---