BUT and onsemi broaden cooperation in semiconductor technology research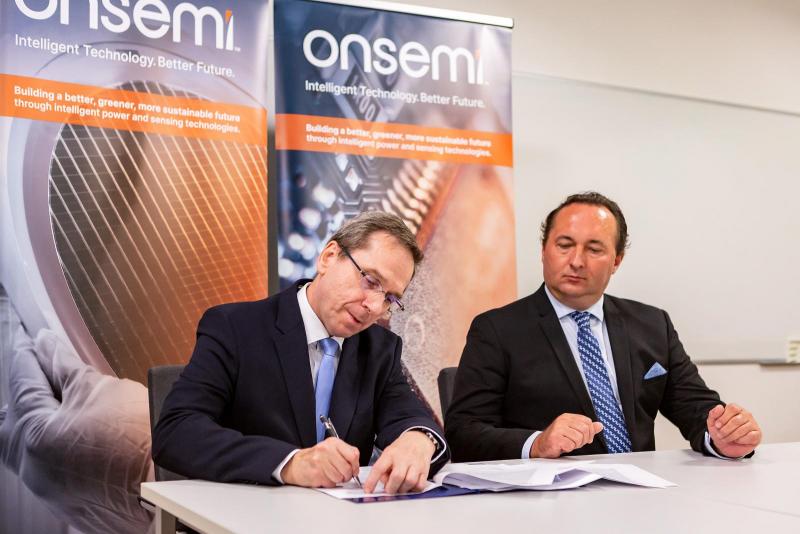 The Rector of Brno University of Technology, Ladislav Janíček, signed a memorandum of cooperation with onsemi in Rožnov pod Radhoštěm on the evening of 9 October. The objectives of the memorandum include strengthening competencies in research and development of semiconductor technologies, component design and semiconductor analysis. One of the largest semiconductor technology manufacturers in the world has been cooperating with the university for many years in teaching, in the preparation and equipping of laboratories or in internships for students.
"The signed memorandum creates conditions for even closer links in both education and research, in a new quality. The need for graduates in the semiconductor industry leads us to discuss new forms of cooperation. In addition to the traditional collaboration on teaching, we foresee increased participation in the development of study programmes or postgraduate training programmes, expanded opportunities for student internships and, newly, perhaps the introduction of industrial doctorates. Much more than before, we will now be united by joint research and development, which, thanks to the cutting-edge research facilities of the BUT, allows us to offer onsemi a high-quality partnership in the entire technological breadth of the field, from the development of materials based on nanotechnology through the actual design, development and research of chips to their programming," said Rector Janíček, among other things, during the meeting at the signing of the memorandum.
Thanks to the expanded cooperation, BUT students can also experience in practice beyond the current scope, for example, the design of chips based on silicon carbide, which, thanks to its excellent qualities, is the material of the future in chip manufacturing.
In addition, onsemi is opening new analytical laboratories with state-of-the-art equipment near its development centre in Rožnov pod Radhoštěm, to which students and researchers from the BUT will also have access as part of the cooperation.
The American manufacturer is one of the domestic and world leaders in chip production. This year marks the 30th anniversary of the semiconductor design centre in Rožnov pod Radhoštěm and a memorandum was signed on the occasion of this anniversary.


Source: vut.cz
---